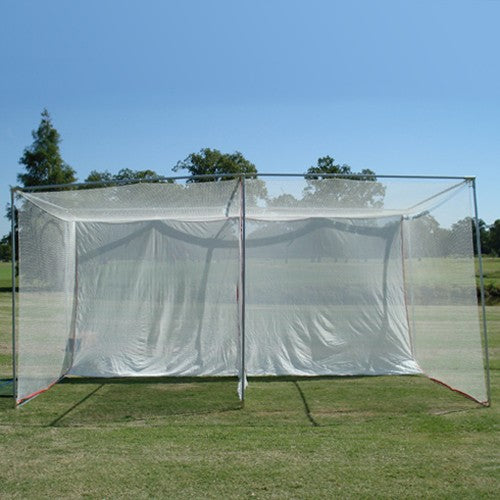 Double Bay Golf Practice Net and Cage
Original price
$999.00
-
Original price
$1,279.00
Introducing our 10x20x10 golf cage, the ideal solution for golf facilities catering to multiple enthusiasts looking to hone their swing simultaneously. This spacious cage offers a generous practice area, accommodating several golfers at once, making it a perfect addition to any golf center or training facility. Crafted with precision, it features high-quality white #252 nylon netting, custom-made in Everson, WA, ensuring exceptional durability. The heavy-duty nylon impact panel provides added protection for the cage, with a robust 1-5/8" pole frame guaranteeing structural integrity. Elevate your practice experience with this reliable golf cage, perfect for accommodating multiple golfers or practicing with a friend or family member.
What's Included
10'H x 20'W x 10'L #252 Nylon Golf Net
10ft x 10ft #252 Nylon Impact Panel
1-5/8" Powder Coated Steel Poles
Corner Kit
10 x 20 x 10 #252 Nylon Golf Cage Net
A vital feature of this net is the strength and weight of the material. Our #252 nylon netting is custom-made entirely of knotless nylon netting, urethane-impregnated, and UV-treated. This durability means it will last a long time under the sun so that you can enjoy it for years.
10 x 10 #252 Nylon Impact Panel
This package includes a replaceable nylon impact panel of the same material as the net, so if you wear a hole in the impact panel, you can replace it without even taking the cage net down from the frame. This added protection ensures that the most heavily used sections of the netting will last you for years of practice and countless shots.
1-5/8" Powder Coated Steel Poles & Connectors

This cage comes with our professionally engineered free-standing frame, which is excellent for indoor and outdoor applications. This frame is constructed using welded steel corner fittings and black powder-coated steel poles with an outside diameter of 1-5/8". The poles quickly break down into 5' sections for easy off-season storage.
This is made in-house. Please expect 10 weeks on lead time.
Note: Parbuster will not cover any weather-related damage to your cage.